Read about this online on Saturday and it sounded so lovely decided I had to try it on Sunday. The last time I read about a perfume and knew it would be perfect was Thierry Mugler's Alien - it was and I was obsessed with it for about a year and for me it will always remind me of our trip to Australia as I bought myself the shower gel and a replacement perfume in Dubai airport and every morning our bathroom smelt of Alien. It was the one perfume that I could guarantee that pretty much every time I wore it someone would comment on how lovely it was. I have the original Prada and I love it so I had a feeling that this would be a fave too.

Actually whilst typing this have just realised that the new Prada is similar in packaging in that Alien was in an Amethyst coloured glass bottle supposed to represent a precious stone and the perfume itself was lilac in colour, oh just noticed having uploaded the photo that this one is a lilac coloured perfume too! The packaging of the Infusion De Tubereus is right up my street - purple and Art Deco and utterly beautiful, you'd have to keep the box long after you had used the perfume!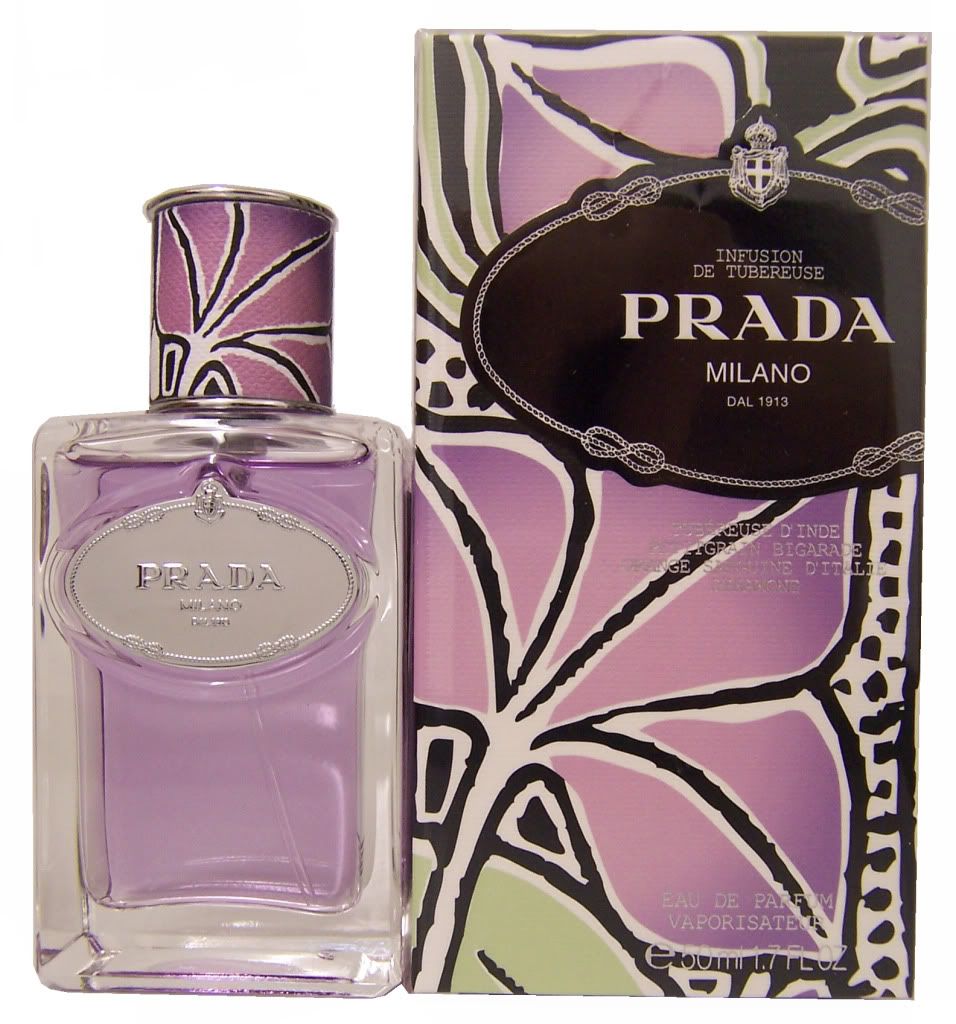 Tell me that isn't beautiful?

As for the fragrance itself. It is divine. It is a floral but not a sweet cloying one, more oriental than sweet, when I was wearing it yesterday I was thinking it was a fat, voluptuous scent, which seemed strangely apt! The proper description, courtesy of boots.com is:


"An unexpected mix of Tuberose from India, Petitgrain Bigarade, Blood Orange from Italy and Dynamone combine to create Infusion de Tubéreuse, a delicate impression of this traditional scent. A playful tuberose mosaic inspired by an archive Prada print has taken over the presentation box, its charming naivety a reminder of the playfulness within. Instead of green, the leaves appear to have been dipped in a degradé mauve ink."
I loved how this smelt on me, the top notes were delicious - I could quite literally taste them in my mouth and then as the perfume dried down the smell was heady but not over bearing, the sort of thing that if someone walked past you wearing it you would follow them with your nose, actually quite a clean "powdery" without being old lady scent. Gad I am terrible at this aren't I - find it in Boots and give it a sniff! This is my latest "small object of desire". Something that I will lust after until I own it - which is very likely to be May 14th! God sometimes you just gotta love birthdays!!