Finally last night got round to sorting out my poor nails. Have a very serious casualty on my right hand having done a bit of hand to headboard combat changing the bed in Room 7 on Friday, its fair to describe it as a stub. So no choice had to be pale nail varnish, cant have vampy dark nails that are stubs unless you are actually a goth.

Actually am seriously into the very on trend pastel nail varnishes at the moment which is new for me, normally much prefer a darker polish.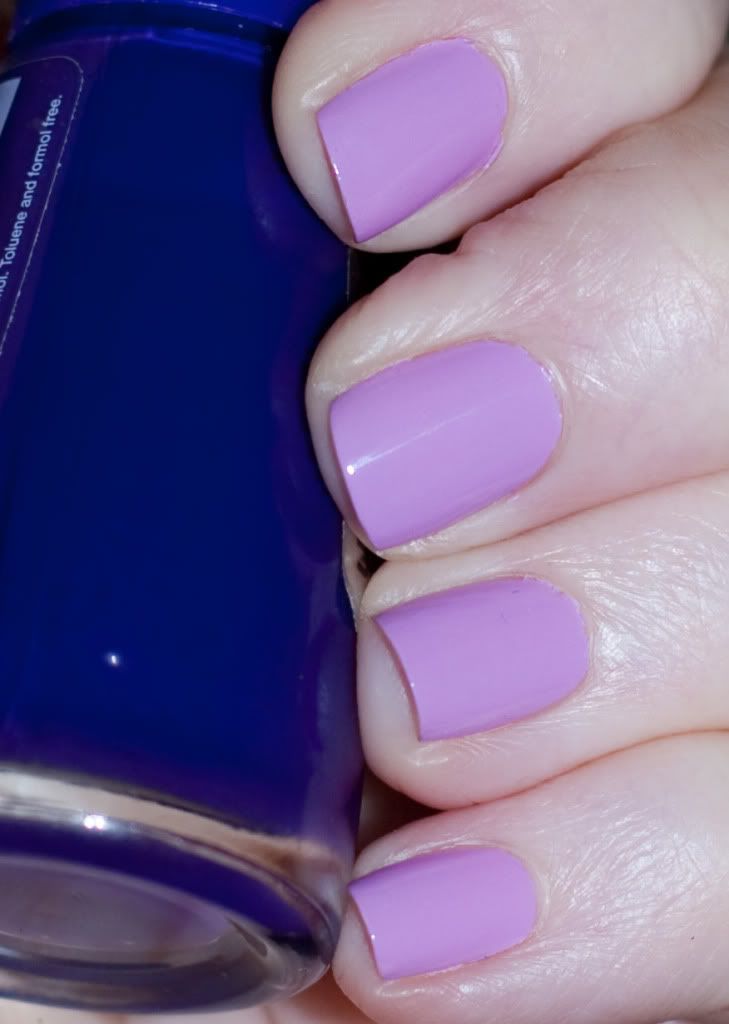 This is a No. 17 nail varnish from their new Candy Collection, this one is Parma Violet and I love it!

Have gone over to the cheaper polishes recently after some real disappointments with more expensive stuff. Bought a gorgeous Bloom purple shimmer which applied like a dog - streaky, sloppy, just vile and it cost £8. Managed to get a reasonable coat on once and someone saw it and comment on how nice it was and then said "is it a Barry M?"!! Imagine my horror, Barry M - make-up for 12 year olds, I don't think so love. Then I got over being a complete nail varnish snob and had a look at the Barry M nail paints and was amazed - bought Racing Green - deep, sparkly Emerald, sparkling purple (much better than the Bloom equivalent) and one other that I cant remember and was instantly a convert - 3 polishes for £9! Went home and chucked the Bloom in the bin! Have since bought Barry M Raspberry, Mint Green, Turquoise and Cobalt Blue and love them all. Em is currently sporting a fab manicure of alternate nails done in Mint Green, Turquoise and the Parma Voilet as above, seriously on trend for Spring - will try and add a photo later!




Notice Em's hands not quite feeling the love. Those poor poor cuticles!

Decided to pull out all the stops and do a full manicure last night. So first cuticle removal, use Boots Expert cuticle removing cream, its nice and gritty and you can give your nails a good buff with it too before gently pushing back your cuticles with an orange stick. Good wash to get that off and then a slide round with a glass nail file, always glass never those nasty gritty disposable ones which just shred your nails - have a Ruby and Millie one and its the one nail product I think is worth paying for, flipping expensive at £13 but they last ages (provided lumox of a husband doesn't stand on the damn thing) and can be washed to keep them nice and hygienic! Such a fine finish they actually leave a gloss on your nail tips so you know it is helping to seal the layers, v important if like me your nails flake. I used a Nail Dr's base coat that acts as a ridge filler to hide the worst of the damage where my nails have flaked. The nail varnish is well pigmented so its opaque in two coats, but needs both to even out its slight streakiness. Then topped the whole lot off with a coat of Boots Expert Strengthener and ran a bit of Boots Expert nail and cuticle oil around the cuticles. All done!

I am a huge fan of the Boots Expert range, all the nail products I have used have been fab and are generally considerably cheaper than other similar products. I also keep a tube of the lip balm in my skin care bag and religiously apply a slap of that after toner and before serum and moisturiser - I give my lips a bit of a massage with it each morning, gets the blood flowing and seems to help plump them up a bit, never a bad thing!

And to finish a nail varnish top tip - if you do your mani in the evening and wake up to sheet prints on your nails dont panic! Whack on a quick coat of clear polish and wola glossy, smooth nails with no sheet marks!

Any nail top tips you want to share - god mad, knock yourselves out, its good to share!