Who doesn't love a freebie? Even if half the time its stuff you don't want or need!! I needed another bottle of Max Factor Second Skin foundation in Creamy Ivory ready for my hols (Corfu, on Friday, can hardly wait!!) So having had a rummage to check that Second Skin was the way to go, haven't bought the same foundation 3 times in a row in like forever, I think - that's how good this stuff is, absolutely love it! Noticed that if you spent £15 you got a lil' make up bag with some stuff inside and thought that as the foundation was £13.99 I only needed a wee tiny thing to have spent enough and Lo! there was the Max Factor Max Effect range sitting there looking all sparkly and shiny and I had had half an eye on the Dazzling Blue nail varnish since I first saw them, for £3.49 I think? Teeny bottle but it just looks like a really nice blue/gold/purple duochrome, although actually that would make it a triochrome and they don't really exist do they!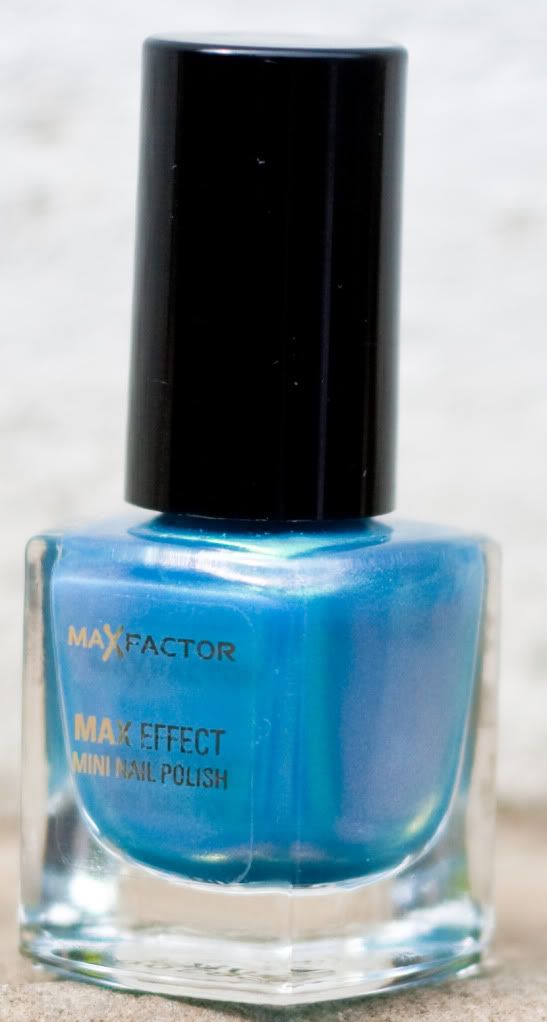 Isn't it lush? Have a feeling that I might be disappointed by it in real life, it has a real opal look to it in the bottle but often this kind of thing doesn't convert in the wearing so we'll have to see - I promise swatches asap.




So onto the freebie. This cute make up bag, I have bazillions of make up bags and still don't have too many. Some one please explain this to Steve. Thank you.



And inside an array of loveliness.




I am actually really surprised. Black kohl eye liner, Em nabbed that straight away. Masterpiece High definition Black mascara, worth a try - my go to is L'Oreal precision - the comb makes my non-existent lashes actually show up - but I am happy to have this to try. Disco Pink Nailfinity nail varnish, cheesy name or what? Nice vibrant pink cream though, could be very Corfu! Earth Spirits eye shadow in Ultra Aqua which is a lovely pearly aqua shot with a bit of gold - TV Db rides again! Even if I only wear in on holiday with a bit of a tan and my new turquoise maxi dress! And a mini lippy which is no. 804 Hint of Red. I HATE lipstick, too dry, too claggy too vile, I always use sheer lip stuff, dont do gloss as am too old and dont like the gloopy feel, current fave is either the UNE lip balm or for a bit more colour Dior Serum De Rouge in Raspberry - £24 bought in duty free last November and it is fantastic, creamy, smooth, lightweight, nice hit of colour but sheer enough not to look old lady AND it'd doing your lips good, allegedly. This Max Factor lipstick has blown me away, its a do'able shade of red, pretty sheer and really really moisturising, feels lovely on.




And if that weren't enough you get two sample sachets of Second Skin foundation - Natural and Golden, both of which will probably be too dark for me and finally a £3 voucher off Second Skin foundation, which is fab! Oh and a pair of those weird toe separator thingies for when you do your pedi, so all in all just perfect as a pre-holiday selection of loveliness!

Had a fab weekend in the Lake District so photo blog will be getting some updates soon too, btw!