Here's the review I put on the Boots website:



Lovely colour; applies like a dog.




Loved the colour of this but its the last No 7 Speed dry polish I will be buying. Basically it dries on the brush as you are applying it, unless the brush is so full of polish it swamps your cuticles and makes an unholy mess, but bizarrely takes an age to dry on the nail - probably because 2 coats of this is the equivalent of 5 of a decent polish.
The brush, by the way is rubbish - no matter how good the formula of a polish its only as good as its brush.
Save your money - buy Models Own.



I think that about covers it! Although guessing it never appears on the Boots website it made me feel better. Am so disappointed, it really is a lovely colour - berry with a subtle shimmer, very vampy.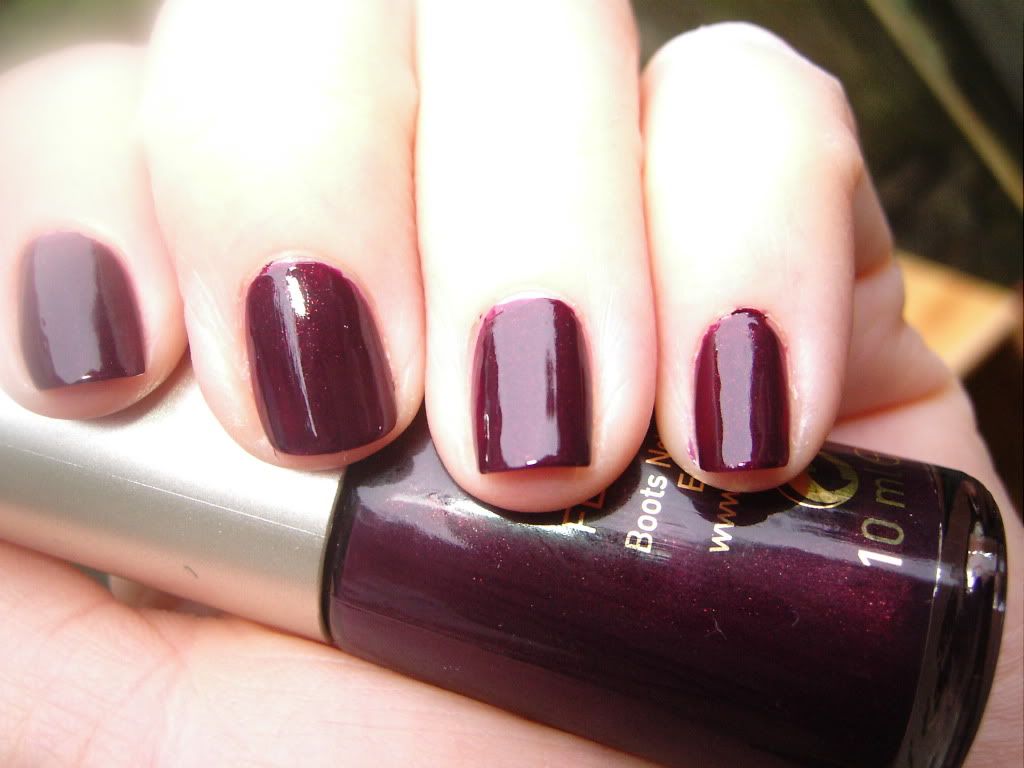 Outdoors with flash - not really how it looks but love how it looks in these pics!



Outdoors without flash, more how it actually looks, dark and almost a cream.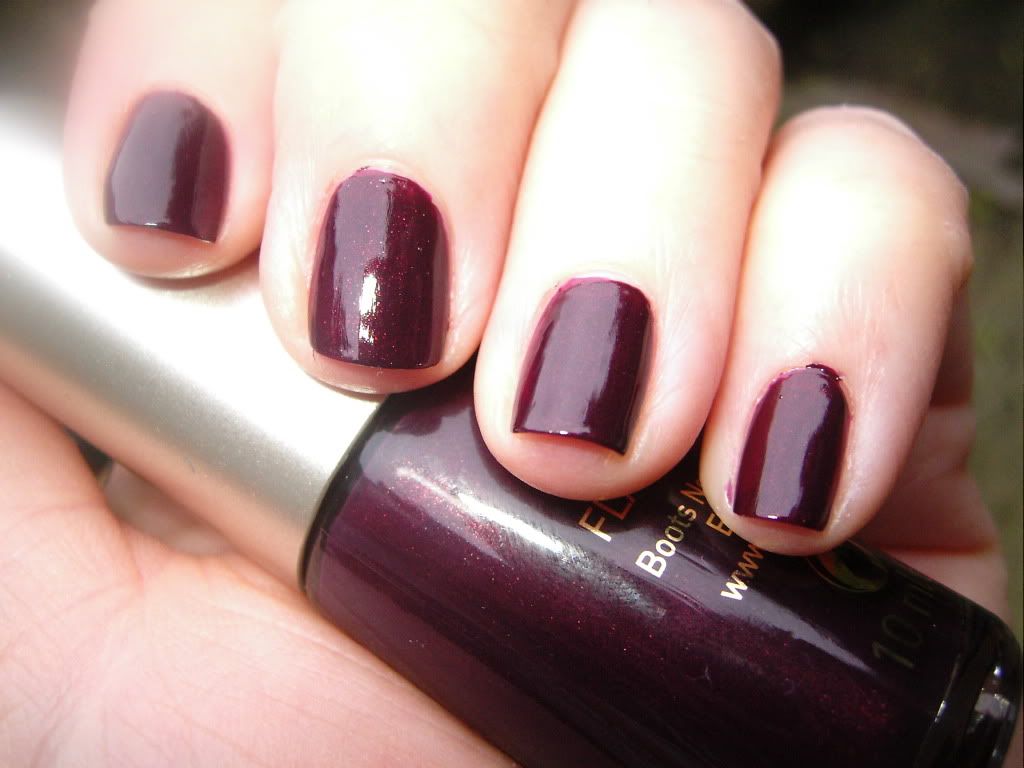 Outdoors and flash again, because I can!

As you can see application is far from perfect and with nails as short and small as mine I NEED thin polish and a crash hot brush, the bendy, flouncy broom in this bottle was seriously not up to the task. And what is it with fast dry polishes that it is impossible to apply a thin coat, seriously unless the brush was so loaded it was dripping off the stem - I have it all over my hands and the table and the bloody bottle - it was drying on the brush and becoming a brush strokey horror on my nails? Not doing anything this eve and wanted nails done for fab out in Leeds tomorrow so in the morning after I have washed my hair I will do the cuticle tidy up with an orange stick in the shower. (Leeds - off to see Clare Maguire and a band called Hurts at ....damn forgotten name and want to type Cockroach club and just KNOW that cant be right.....The Cockpit that's it! Few drinks and something to eat first and then, if you tube is anything to go by, some seriously good music. The friends we are going with saw Hurts at V Fest and thought they were fab - sort of Kraftwerk/Depeche Mode fusion (you lot might need to use wikepdia to find out who those two bands are as you are all sooooo young!) cant wait.)

It also isn't exactly glossy, this has got a coat of Nails Inc top coat on it to a) make it dry and b) make it shine. Frankly all I need now is for it to chip like a bitch and its on a fast track to the bin!

PS beloved daughter reneged on her promise to lip model my glosses on the basis that she has a hot date so had to spend 4 hrs getting ready, honestly I kid you not - she's the one that should be blogging here she spends £60 a month on mac foundation alone! last time I treat her to anything in duty free!