Well that didn't work did it - my post scheduling failed to happen oops!
Confession time. In the past I really liked eye shadow and in my teens used to do insane things on my eye lids, when they were taut and I was wide eyed and lovely. Ok, I may never have been lovely but my eye lids were once taut. One particular fave involved lemon yellow inside corner, bright pink middle lid, bright green edge of lid and into crease and yellow on brow bone. I was, of course the height of cool and much admired by my friends for my ability on the maquillage front. Sod off, it was the 80's we all looked stupid.
20's saw the arrival of babies and no time for anything more than a slap of moisturiser. I was heavy, make up free and had my hair cut by a friend who thought a woman with a round fat face suited a pudding bowl hair cut. Some friend. My twenties were quite frankly my fuggly period.
30's and the realisation that fuggly was not the way to go. Changed hair dresser, changed my life! Got glasses instead of spending months at a time with conjunctivitus from my contact lenses, lost 3 stone and unleashed my inner siren. My thirties were FUN!
Moving on. 40's and now I want to look polished, we (sometimes) have a bit more disposable income and whilst I am never going to be a teenager again I think its just a case of changing gear, or at least I do now having read loads of other beauty bloggers, admittedly most of whom are still in their 20's and 30's at most. I just want to look in the mirror and see someone that knows what works for them, that maximises their good features (when I find one believe me you'll be the first to know) and glosses over the less than lovely bits. So I am rediscovering my love of make up and especially eye shadow. So far no lemon yellow but give me time!
One of the bloggers I really like is Jane at Modesty Brown and I credit her with re-awakening my love of all things eye. Her looks are neutral but still interesting and very wearable and she made me realise that just a little of something nice can make a really big difference to how you look. Taupe is the word I would associate with Jane, based on her blog posts and as a result I decided it was the way to go.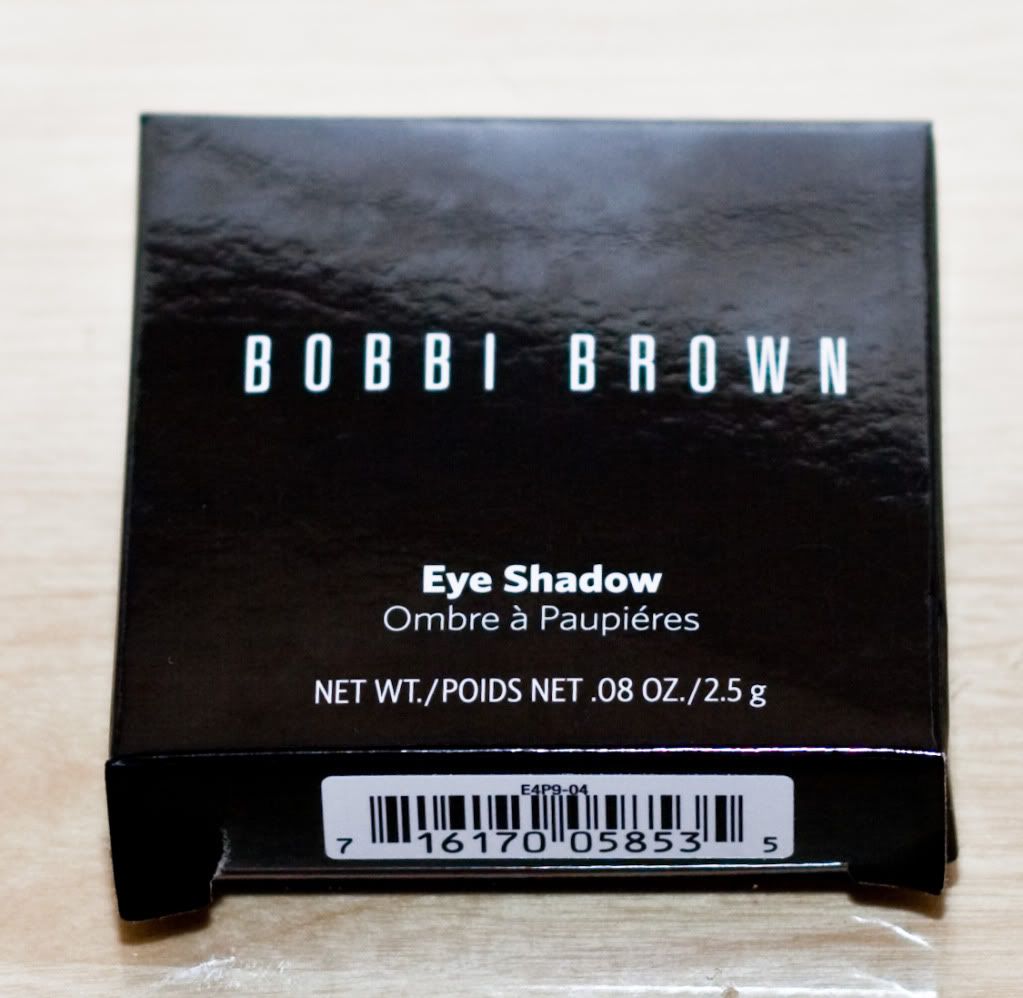 I am having a bit of a Bobbi Brown thing at the moment. I also bought the taupe eye shadow and even as I handed over my £15 I was wondering if I was mad to be parting with £15 for something as dreary looking as a matt taupe eye shadow. Once I got home and had a play I realised that I had made the right decision.
Inside with flash, above
Outside in natural light, above
Whilst I am not sure this is what I had in mind when I was thinking taupe, I am seeing brown, I do think this will get a huge amount of wear. As you would anticipate it feels like velvet to apply, and wears well but it doesn't blend as well as I had hoped, to the extent that I have just done a google to see if it is one of the ones more intended for use as a liner - seems not, I just struggle to get it really nice and smooth, even with a base shadow to work on top of, maybe its me and my rubbish application. Of course now I want a shade that more closely resembles the "taupe" I had in mind. (kicking myself for just letting the SA pick up the shadow they called taupe and not going with her to the counter to check it was what I wanted.)
I know I used this pic on my post about the foundation but it also a good one for showing off accurately the taupe eye shadow. Now I want bone, for all over, a shimmer to jazz things up for evenings and a lighter shade that more fits with my definition of taupe! It never ends!!
But. All my dreams are about to come true. I have been working away for 2 days and whilst I was away Leanne at OCD emailed to say she had heard that Debenhams were going to be selling UD Naked on their website, Steve staked out the site and yesterday morning ordered it for me as a surprise!! I was delighted yesterday evening when I got home and he told me so now I am pacing up and down in front of the door waiting for the post man! Looked at the Debenhams site last night and they are not showing the palette again so presumably they sold out really quickly. Leanne thank you so much for the heads up!
*update 15/9/11 - this eye shadow is rubbish and has languished in my "things I wouldnt use if hell were to freeze over" drawer from about 2 weeks after purchase. Frankly save your pennies!