Mixed feelings about this if I am being honest. It was a purchase made in desperation, which we all know is never a good idea but the eye shadows were what I was really after so I wasnt too bothered about the glosses and the highlighter blush and bronzer.




On the whole I quite like the eye shadows. I think perhaps the palette is aimed at a younger user - in spite of its creator being nearer my age than 17! All of the shadows are shimmer or glitter not a single matt to be had and I think that really lets this collection down.

Taken outdoors, no flash. First impressions are good; a nice range of colours most of them neutral so pretty much what I was looking for, as a born again eye shadow wearer I am still taking baby steps! I knew immediately that the top 2 rows would be relatively untroubled by me, cant wear pink on my eyes without looking like a rabbit with myximatosis (is that spelt right?). The bottom two rows seemed to be much more what I was looking for.

Top row swatched:


Not exactly fab are they? Much shimmer and dry and clumpy, first impressions were right these ones wont see much in the way of active duty.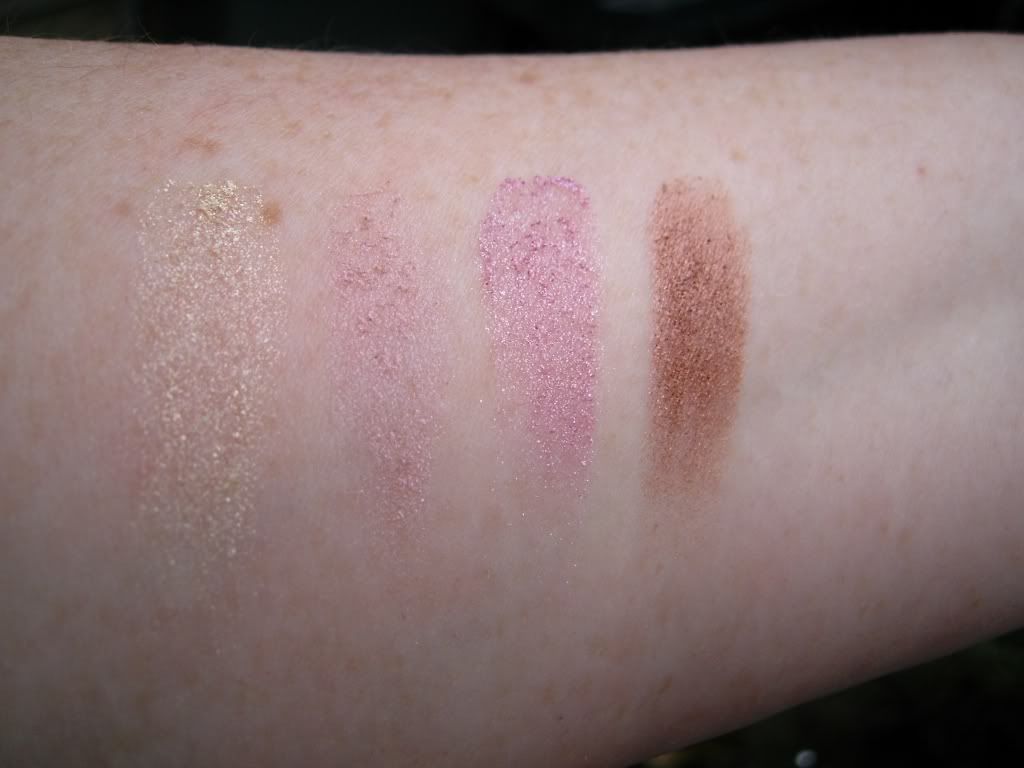 Row 2 very similar, not fab colour pay-off and again clumpy and in that first one the glitter/shimmer is chunky in a dry base. Gad am crap at this sort of stuff, hopefully the photos are speaking for me!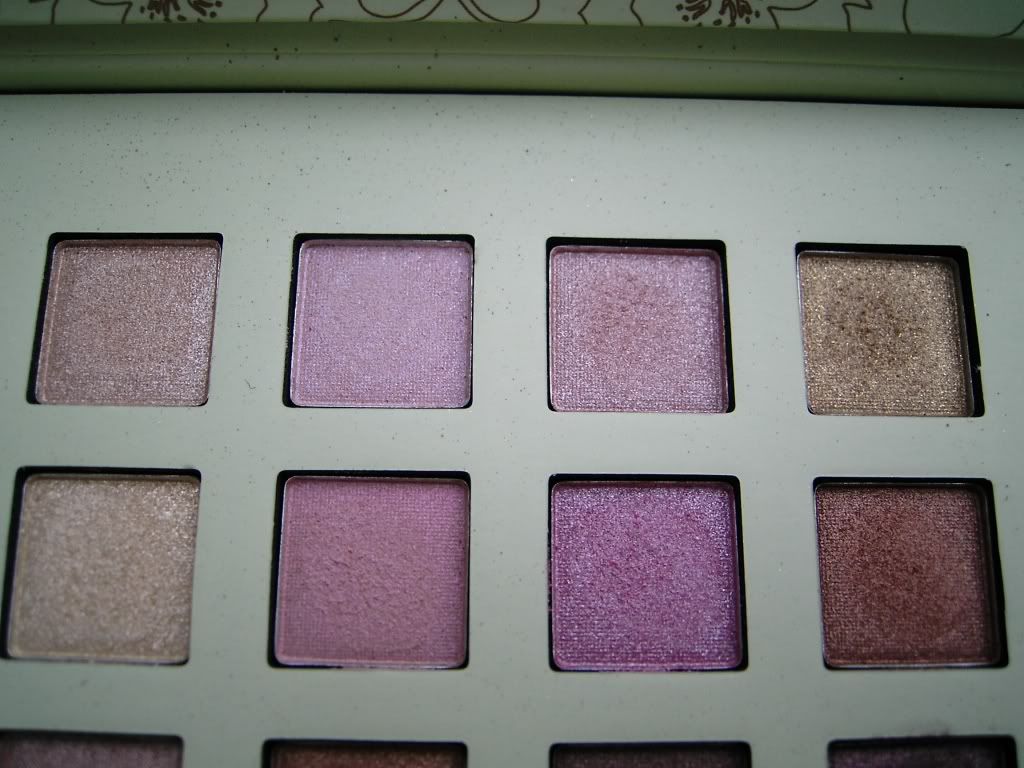 Rows 1 and 2 in the palette for comparison.



This is row 3. The very last one, that in this photo looks very dry is one of my 4 faves. It is a bitch for fall out, first time I used it I had a cheek full of dark brown shimmer, stunning look! Have found it best to pat this on with my finger and then blend with a brush so as not to skite it all round my face. Apart from the first one this row of shadows is a wildly different texture to the first 2 rows, all of them are much smoother, although the fifth retains a bit of the clumpy dryness which is a shame.



Row 4 and home to the other 3 faves, which are the first, fourth and fifth. The first is a warm gold shimmer with a nice smooth texture, hallelujah!, fourth is a taupe shimmer again really smooth and the one that I am going to use up first and fifth is a darker taupe with the least shimmer of all. The 2nd and 3rd shadows are also very smooth shimmers in nice shades but more for use as highlighters than colour and there is only so much high shine pale shimmer a girl can use. Especially when that "girl" is 44 with eyelids like an alligator.

Rows 3 and 4 in palette for comparison:



And my fave 4 together clockwise starting with lightest is 1st on row 4, then taupe from 4th row, darker taupe from 4th and finally the darkest is 5th from row 3. Nice but not exactly £27 worth of fabulousness are they?!



So thats the eye shadows. Now for the lip glosses.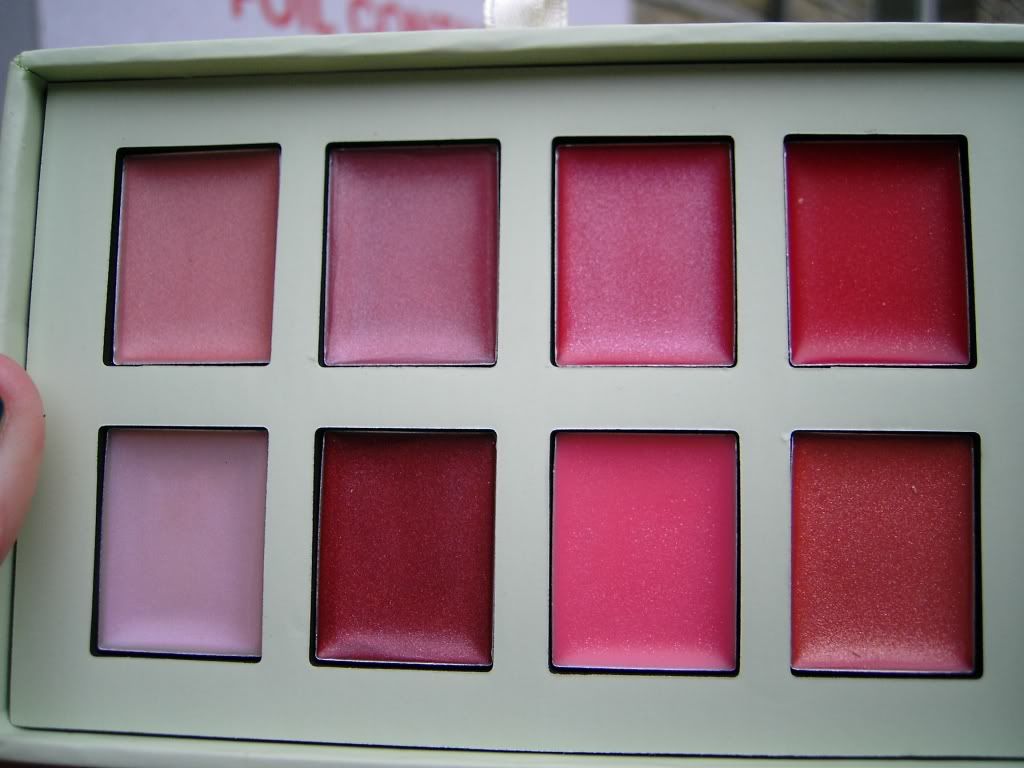 Row 1



Row 2


In a word? Pants. Just shocking, sticky and the only ones that do anything are all glittery and orange looking. Vile.

Now for the highlighter, bronzer and blusher.



Highlighter and bronzer



Highlighter and blush



These are clearly not my colours at all and I am very anti applying coloured powder to my face - blush is always cream for me. That said I think these could be wearable on a younger face especially the hightlighters. although they are a bit sparkly for a grown up. All four powders have a lovely silky feel although the bronzer doesn't blend so that could be scary on!

To be completely honest I am not impressed. Pixi is the creation of a make up artist and as such I would have expected a much better palette, the eye shadows are 50% unuseable and because there are no mattes the only option is to create shimmer eyes so not much range really. The shadows that play nice are lovely and that just makes it harder to understand why the others are so clumpy and dry. The glosses are egregiously bad and a real let down if you had bought this palette hoping to use them. Blusher, bronzer and highlighter sort of had to be there to make this a "wake up" palette and whilst I wont use them I think on a younger face they might actually be the stars of the show. So the quest for my hg palette continues. But only until I get my hands on the UD Naked palette and then that quest can happily come to an end. Am going to start saving so I can purchase the minute it appears. Or, if I am truly lucky I might win it from the advent giveaway that Lipglossing was running in the run up to Christmas!!